Experienced Wait Staff
NYE make your event great
We make your 
event seamless
Wait Staff for Hire
Washington DC
Adequate staffing in the hospitality industry can be a challenge. If you need staff for event in Washington DC, or other hospitality workers, we're here for you. We offer a wide selection of high-caliber hospitality event staffing.
We have experiment staff working in more than 80 events that will take care in the best way of the station food area. Leave the annoyed task to our professionals team. 
We are working events of all sizes & budgets. We have experience with bartending, conferences, conventions, competitions, and trade shows so you can feel comfortable that you are with the best.
NYE staffing is in the business to help you get the right caliber of professional's staff who will make sure your event runs smoothly. The staff uniform option is up to you!
A busser will help you by setting tables; placing and replacing silverware; keeping beverage glasses full; adhering to sanitation, clearing and cleaning tables, chairs, and environment.
Party and Event Staff for Booking
Have you ever felt stressed after hosting friends and family? This is why we created NYE Staffing. Our team comes in and helps where you need it. Maybe you want to make sure there is always ice at the bar or wine opened, perhaps you want someone to take coats, , take out trash, clear plates or fill the dishwasher.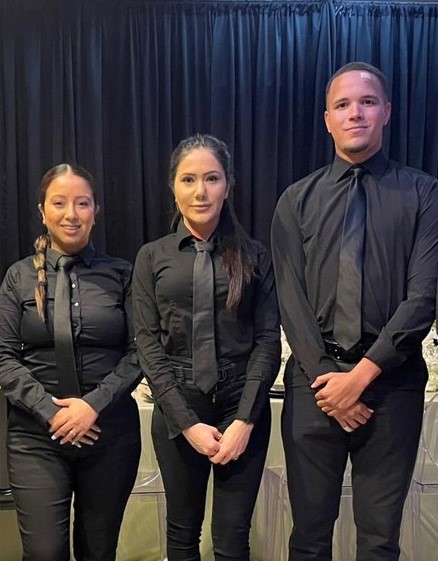 FULLY INSURED: Our staff is covered under our workers compensation, general liability so you don't have to worry about a thing.
RELIABLE STAFF: We provide experienced trained wait staff.  Our team members are reliable, friendly and professional so you don't have to be worried about being short staffed at the last minute.
EASY: We have a simple reservation process, so you don't have to spend a lot of time or deal with a lot of paperwork to book the services you need.
Make a payment to hold
your wait staff. Sit back
relax and enjoy.
NYE Staffing started in New York City, but quickly are to serve clients across the country. You can find us in Washington DC, Miami Virginia to the Hamptons
Video Duration ~ 1:50 minutes