Impress your guests! with a
unique Chocolate Fountain Rental
Get our unique
Chocolate fountain rental
Chocolate Fountain Rental
Pamper your family members or dedicated staff to a treat they will really enjoy. From premium Belgian chocolate to delicious dipping for everyone to enjoy.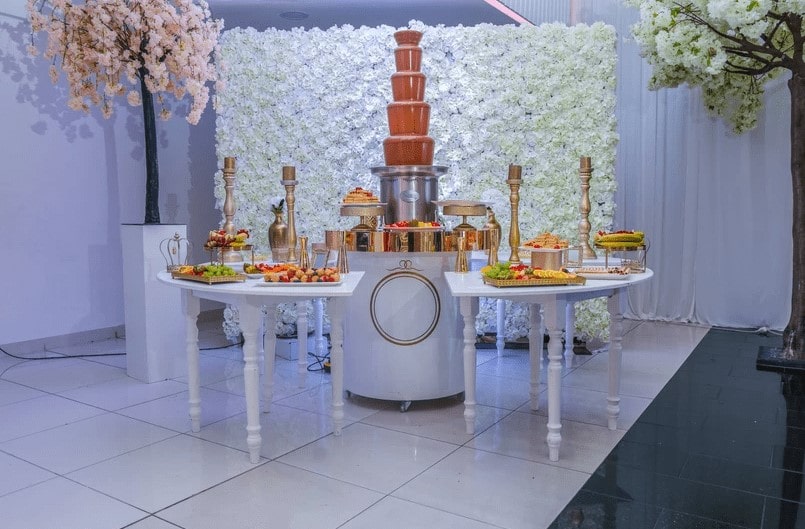 Our chocolate fountain rental is a great idea for weddings reception. When your guests arriving a unique table décor will make a lasting impression.
Chocolate fountain for hire are a delicious centerpiece to add to your event. Great Idea for Children's Party, Birthday, Baby shower, Sweet sixteen. 
The precision stainless steel auger re circulates the warm chocolate up through the fountain and back down over the stainless steel tiers. Our chocolate fountain rental add a touch of class to any type of event. Dipping your favorite fruit, pretzels, or cookies into the warm melty chocolate is not only delicious, it's entertaining as well.
Hire the Finest Chocolate Fountain
We only use the finest quality Premium Sephra chocolate 
Made in one of the oldest cocoa. Premium Sephra Finest Chocolate is ready
 for you. To surprise you world-class usability and to indulge your guests' taste
 buds with the  chocolate flavor they love! Do you really want to make of your
 event unique and different? Our cascade of chocolate combined with our
 fruit buffet will not only dazzle but also entertain your guests this candy buffet.
We offer 3 different types of chocolate: Our rental chocolate 
fountains provide Traditional Milk chocolate, artisan Dark chocolate an
 magical white chocolate, which we can transform into a
 color of your choice hiring chocolate fountain in NY & Westchester.
.
Chocolate Fountain Packages
Where to use the chocolate fountain? There are different sizes of fonts that adapt to the type of event you have. For instance, if you have a small gathering at your house, you can choose the family package. Or if you have a celebration with more than 50 guests, you can opt for Suisse package. For wedding receptions or luxury events, the elite and executive packages are ideal. 
Flavors Chocolate Options
CREAMY FULL TASTE OF LOVE
WARM THE HEART AND THE STOMACH
The color and the taste of the chocolate can be determined as desired. We only use the finest quality Belgian Sephra chocolate. For extra convenience and luxury, it is possible to hire staff to serve and fully relieve you and your guests. 
All the colors of the rainbow
To fully adapt your chocolate fountain rental to the theme of the party and to make it even more festive, we offer the possibility to transform white chocolate into any desired color.
Orange, Pink, Red, Blue, Yellow, Green, Purple
To fully adapt your chocolate fountain rental to the theme of the party and to make it even more festive, 
we offer the possibility to transform white chocolate into any desired color.
The purchased services are delivered on location at an agreed time and fully built up by us. The fruit is cut, the plates are filled and, if desired, our professionals will accompany your guests to the end. Afterwards we will clean up everything ourselves. All that's left is to enjoy! We use Sephra Chocolate  Fountain
We provide everything you need to fully enjoy the chocolate fountain rental and its treats. The only thing you have to ensure is that a table is ready on site. We will take care of the rest. For example, we provide plates, napkins, picks and of course the crockery where the fruit and snacks go.
Pineapple, Bananas, Strawberries, Red Apples, Green Apple,  Melon (cantaloupe or honeydew), Red Grapes, Green Grapes, Kiwi, Oranges, Oreo Cookies, Marshmallows, Pretzel Sticks, Rice Krispies Treats, Twizzlers, Gummy Bears, Waffle Cookies,  Sugar Wafers, Nilla Wafers, Chocolate Chip Cookies, Oatmeal Raisin Cookies, Sugar Cookies, Potato Chips, Brownies, Cream Puffs, Donut Holes.
Request a Quote on our website or 
call 929.405.6703
Make a payment to reserve
your chocolate fountain.
Sit back, relax & enjoy our
 mouthwatering food by our 
amazingly talented chefs..