Bring peace of mind with
our reliable Wait Staff for
hire.
Always ready to make
your event seamless.
While people often stress about the details, it's the overall experience that guests will remember. Let us handle all the small details so that you and your guests can enjoy an incredible and memorable experience. 
When calculating the number of party servers for hire, we recommend having one server for every 10 guests for a sit-down dinner. For cocktail parties or corporates we suggest having two servers and one assistant for every 50 guests.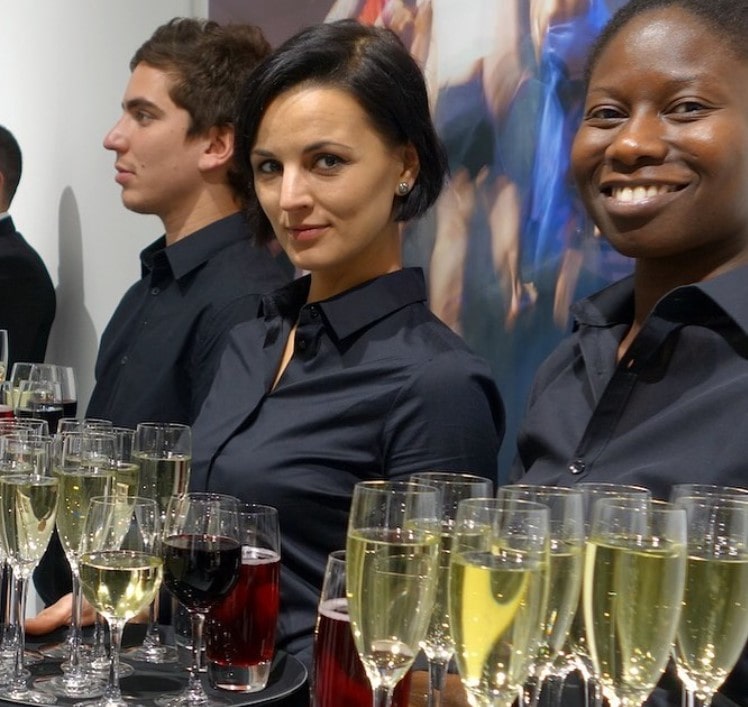 Our buffet attendants are dedicated to maintaining the cleanliness of the buffet area. They take care of restocking plates, napkins, and utensils, ensuring that the food is served quickly, and chafing dishes remain full throughout the serving time.
Party servers help keep everything tidy and clean throughout the event. Wait staff for hire take care of removing trash and debris, removing glassware, cleaning dishes, and helping with the closing of the event.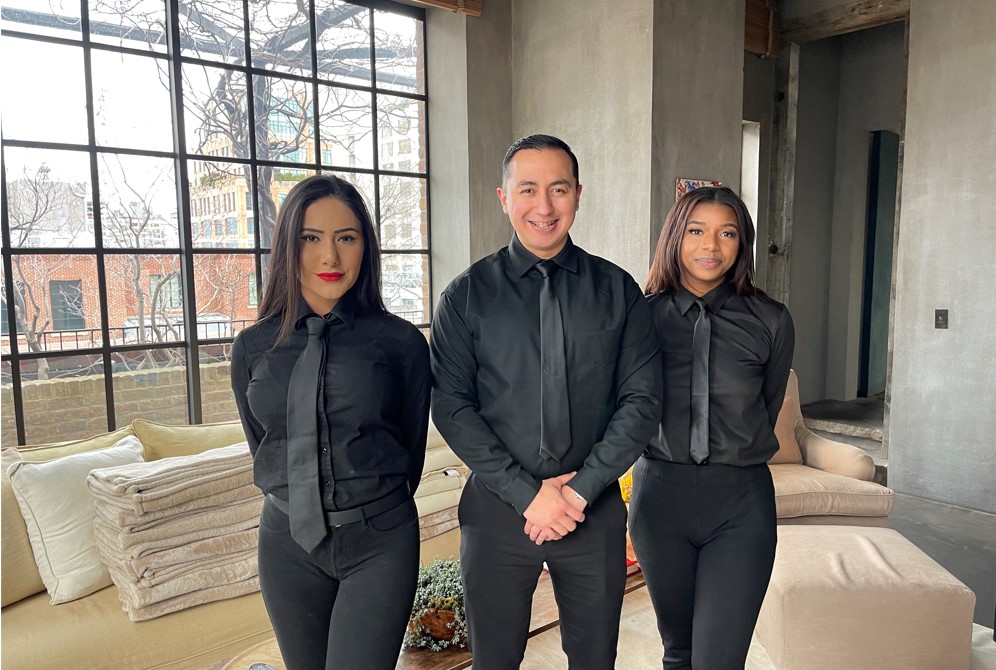 Any prestigious staffing agency will strongly recommend you having a Captain (or leader) for your wait staff team and bartenders. The captain ensures that everything is organized and runs smoothly, leading the team from start to finish.
NYE team are the perfect combination of friendly and sophisticated. Our party staffing have a minimum of 5 + years of experience. Mixologist  are available anytime. Book for your event and amaze your guest with dreamy cocktails with a charming smile. 
The reception is the first impression of the event and an attentive and smiling staff receiving your coat to store it, is a welcoming environment for your guests. Coat assistants handle check-in, organizing and their return at the end of the event. 
Worried About…
Being short on staff?
Staff not showing up?
Staff lacking training?
Then contact us so you don't deal with it anymore
So, you don't have to be worried for any accident. Our staff are covered by worker compensation, by umbrella policy and general liability.
Applicants must work 5 supervised events and meet our guarantee of excellence before working for us. This ensures accurate service execution, team-player attitude, ability to handle solo-shifts, and a 5-star rating from clients.
We work with a variety of private and corporate clients, including catering services, event venues, corporate meetings, family reunions, media groups, public relations agencies, event planning agencies, restaurants, fashion houses and hotels.
If another event staffing agency has let you down at the last minute, we are here to help. Our catering staff for hire will arrive in polished uniforms to serve at your birthday party, wedding, or special event. We provide bartenders, hostesses, waiters, waitresses, and dishwashers for both house parties and large events.
How much does it cost to hire wait staff?
The price of waiters and waitresses can vary according to the location, the number of guests at the event, how many hours of service and type of event. However, the average range to hire a wait staff is between $25-42 per hour.
Video duration 1:48 minutes
We understand the importance of ensuring that our staff is equipped to provide exceptional service. We believe that ongoing training is the best insurance policy for a successful event.
NYE staff are experienced and trained to provide assistance with all types of corporate events. Let us concentrate on your guests, so you are able to focus and enjoy your event. 
From hostesses to bartenders to
model hostess
, we support the needs of all areas of corporate events.
Make a payment to hold
your wait staff. Sit back
relax and enjoy.