Bring peace of mind with
our reliable Hospitality Staff.
Bring peace of mind with
our reliable Hospitality Staff.
Hospitality Staffing Solutions
Discover exceptional hospitality staffing with NYE Staffing in the heart of New York City. Enhance your event or business with our outstanding team of professionals who are not only highly skilled but also exemplify professionalism and courtesy.
NYE Staffing takes pride in our diverse team of skilled professionals, encompassing bartenders, catering servers, event captains, barbacks, party waiters, catering staff, model catering, banquet servers, bussers, and bar captains.
Need something extra special? Our dedicated account executives are at your service, committed to ensuring every detail aligns with your vision. Elevate your event – choose us, and let us
Experience unparalleled hospitality with our exceptional NYC staff. When you choose us, you're not just hiring professionals; you're investing in peace of mind. Our team arrives punctually, executes their duties impeccably, and strives for perfection.  exceed your expectations.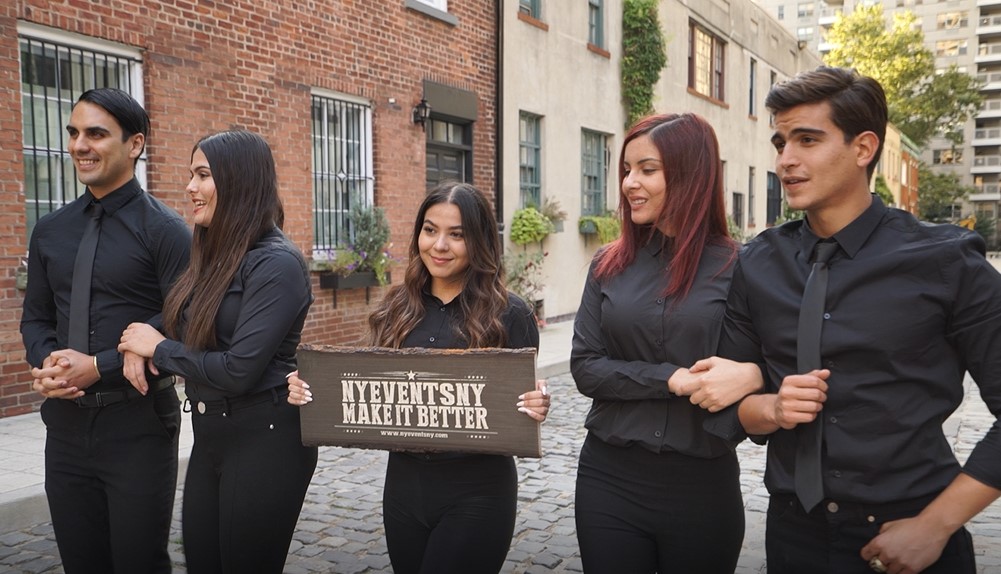 NYE Staffing stands as your top notch service provider for the hospitality needs of hotels, resorts, and corporate clients. Our extensive pool of banquet servers is primed to cater to events of all sizes, from intimate gatherings to grand scale functions.
We know it's important to make sure our team can give great service. We think that always learning and training helps make events successful and fun.
Our lobby attendants are trained to
Welcome residents and visitors with a friendly greeting, Control who enters the building, including visitors and contractors, Keep track of packages and keys using property software,
Be available around the clock for emergency help and quick responses. Wear uniforms that are customized to match your property's style. Have a well-trained team of staff and substitutes through our special program.
Transform your hotel's front desk operations with NYE Staffing. With a decade of expertise, we offer reliable, professional, and on-demand front desk staff for hire. Say goodbye to staffing stress and enhance your guest experience. Contact us today for exceptional service.
Hi, my name is Aria. I am the Client Coordinator at NYE Staffing. Ready to take your event to the next level? Contact me today and say goodbye to inconsistent roster changes and health-related worries, and welcome seamless, stress free events with our trusted hospitality staffing solutions in NYC.
We specialize in Hospitality Staffing Solutions in NYC because our primary goal is to deliver a seamless and successful event experience. Our impressive NYE team comprises over 450 skilled professionals, encompassing a wide range of roles such as catering staff, bartenders, event captains, registration personnel, check-in attendants, event servers, promotional experts, promotional experts, and brand ambassadors, among others
At NYE Staffing, every detail matters. We believe that every detail is critical to the success and satisfaction of our clients at every stage of your event, from planning to execution. Trust us to make your event a true triumph.
When to Hire Hospitality Staffing?
The ultimate solution for your hospitality staffing needs. Whether it's managing last-minute cancellations, addressing high-demand staffing situations, or ensuring professionalism our comprehensive hospitality staffing solution has you covered. Get a quote >