Bartender Hiring Guide for a Wedding
When it comes to
hiring a bartender
, there are two main options: a full-service bartender or a bartender for labor only. Here's a breakdown of the differences between the two:
Full-Service Bartender: A full-service bartender is typically hired from a company or vendor that specializes in event bartending services. These bartenders usually come with a bar setup, including all the necessary equipment (e.g. shakers, strainers, ice buckets, glassware, etc.), and supplies (e.g. mixers, garnishes, etc.). They may also offer a customized drink menu based on the client's preferences, and can provide recommendations for quantities of alcohol and other supplies to purchase.
In addition to bartending, a full-service bartender can help with other aspects of the bar service, such as setting up the bar area, maintaining cleanliness throughout the event, and ensuring that all guests are of legal drinking age. They can also provide additional staff, such as barbacks or servers, if needed .  
Bartender (Labor Only): A bartender for labor only is typically hired directly by the client or event host. They are responsible for providing their own equipment and supplies, and may or may not have experience in event bartending. They are typically only responsible for bartending duties, and not for other aspects of the bar service.
While
hiring a bartender
for labor only may be less expensive upfront, it can end up costing more in the long run if the bartender is not experienced in event bartending and does not have the necessary equipment and supplies. Additionally, the client will be responsible for setting up the bar area and ensuring that all necessary supplies are on hand.
How many bartenders will you need?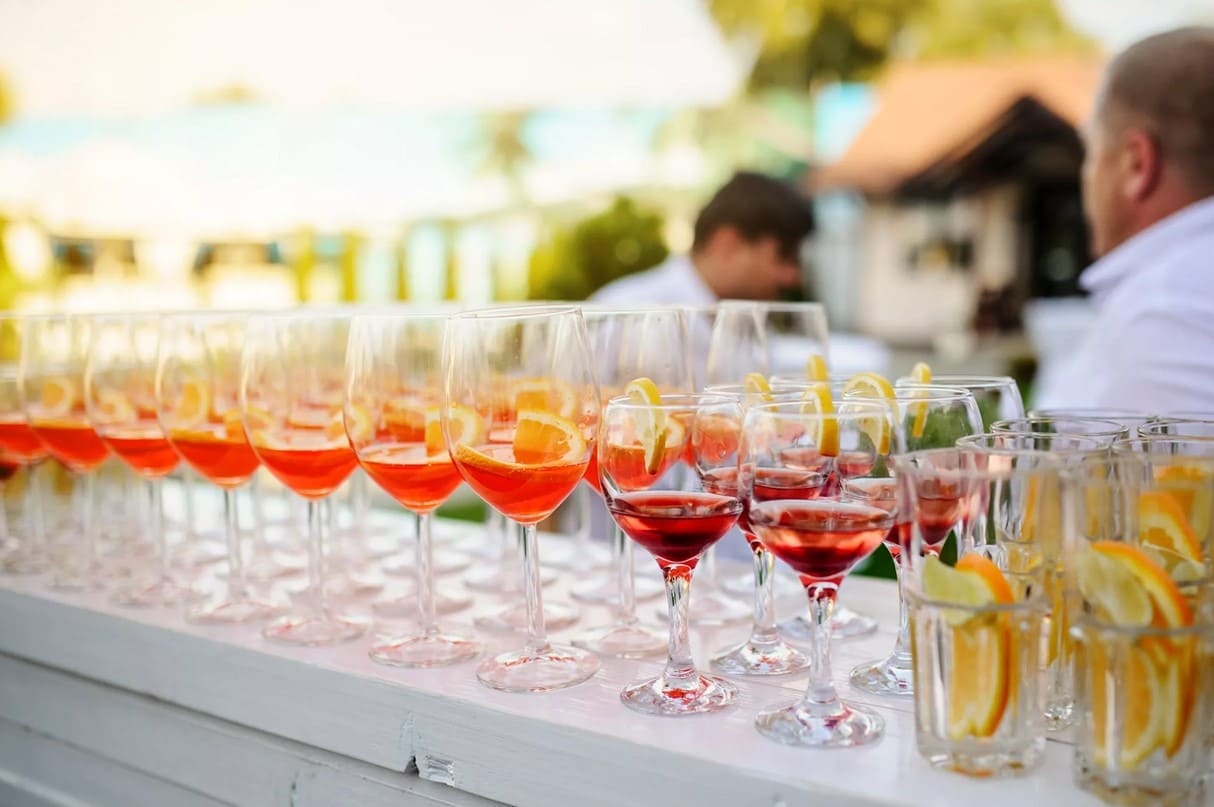 The number of bartenders needed for a wedding will depend on a few factors such as the size of the guest list, the number of bars or service areas, and the complexity of the drink menu. As a general rule of thumb, you'll want to have at least one bartender for every 50-75 guests.
If you're serving beer and wine only, you may be able to get away with fewer bartenders. However, if you're serving a full bar with a variety of cocktails, you may need more bartenders to keep up with the demand and ensure that guests are served quickly and efficiently.
In addition to the number of bartenders, it's also important to consider the amount of time they'll be working. A typical wedding reception can last anywhere from 4-6 hours, so you'll want to make sure your bartenders are well-rested and able to handle the demands of the job. Depending on the length of your event, you may need to schedule multiple shifts or bring in additional bartenders to provide coverage throughout the evening.
Overall, the number of bartenders needed for a wedding will depend on the specific needs of your event. It's always a good idea to consult with an event staffing bartending service or event planner to help determine the appropriate staffing levels for your wedding.
Consider the flow of guests: The location of the bar should be easily accessible for guests. Think about where guests will be entering and exiting the reception area and place the bar near those areas. You don't want guests to have to walk too far to get a drink, especially if the weather is hot or if they're wearing high heels.
Create a separate space: If possible, it's a good idea to create a separate space for the bar. This can help to minimize congestion in the main reception area and create a more dedicated area for guests to gather and socialize. If you're working with a

wedding planner

or event designer, they can help you to create a bar area that's both functional and visually appealing.
Consider the layout of the venue: The layout of the venue will also play a role in determining where to place the bar. For example, if the reception is being held in a large ballroom or outdoor space, you may need to have multiple bars strategically placed throughout the area to minimize wait times and ensure that guests are served quickly. Alternatively, if the reception is being held in a smaller space, you may only need one bar.
Provide adequate lighting: It's important to make sure that the bar area is well-lit so that guests can easily see the drink menu and bartenders can work efficiently. If the reception is being held outdoors, make sure to provide adequate lighting so that guests can see where they're going, and bartenders can see what they're doing.

Keep the bar stocked: Finally, it's important to keep the bar well-stocked throughout the event. This means having plenty of ice, glassware, and alcohol on hand to ensure that guests are able to get their drinks quickly and without interruption. Consider hiring a professional bartending service to help with this aspect of the event, as they will be able to provide a comprehensive bar setup and keep everything running smoothly.
Share